Timber roofs for conservatories and single storey extensions
Looking to upgrade a glazed conservatory roof, or need to extend your property with a room that gives you that homely feel?
The Icotherm roof solutions offer you all the options you need for a standard conservatory roof replacement or a bespoke new build to match your property. Your Icotherm roof can include Velux windows, panoramic glass panels or lanterns.
Icotherm lightweight, solid conservatory roof is perfect for replacing old glazed conservatory roofs or creating a new glazed extension. The system is highly insulated to keep rooms warmer in winter and cooler in the summer. For a space you can use all year round.
Create a room that you can use all year round!
A renewable building material, timber has been used in construction for centuries, starting in the Middle Ages. Early examples include the roof frame for Saint Paul's Cathedral (17th Century). Most Romanesque buildings (1000 AD) were roofed using timber frames.
One of timber's other key benefits is that it is naturally insulating, as opposed to aluminium—which is known to be highly conductive. Timber has a very low thermal conductivity of 0.16 W/m2k (aluminium is 205.0 W/m2k, it is very good at conducting heat and cold*).
The completed Icotherm roof offers a U-value of 0.16W/m2k (even better than an insulated house cavity wall: 0.41w/m2k**).
Source Reference:
* www.hyperphysics.phy-astr.gsu.edu/hbase/Tables/thrcn.html
** www.thegreenage.co.uk/what-are-u-values
Key Benefits of Timber roofs

Natural insulator
Timber is naturally insulating, as opposed to aluminium, which is known to be used for similar solutions.

Premium quality materials
Icotherm selects only the highest quality timber, using a premium C24 building grade material.
FSC Certified
All our structural timber is FSC certified.
The Forest Stewardship Council (FSC) shall promote environmentally appropriate, socially beneficial, and economically viable management of the world's forests.
Whether you are looking for a replacement or are planning a new build, you want the end result to be right for you.
Our roof can be constructed in any of the typical conservatory shapes (Victorian, Edwardian, Lean-to, Gable, Combination), as shown below.
Thanks to the flexibility in design offered by a timber solution, you can opt to have a completely bespoke room, with an Icotherm roof to match.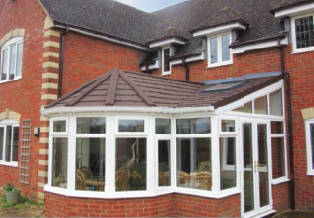 No compromise on light
Balance comfort and space by selecting:
Natural Light
Choose to add Velux windows to the Icoroof, or select the impressive Icoview design, an alternative that seamlessly integrates full length glass panels to sections of the roof, giving you a beautiful near panoramic view of the sky.
Lighting
Ask for your roof to be designed with our unique slimline LED lights. When our LED lights are combined with a traditional plaster finish, it will ensure that your new room will look and feel just as comfortable as the rest of your home, and can be used all year round.
Blending in…
We can help you choose from a range of tile and facia colours, ensuring your space will look as good from the outside as it does from the inside.
You will be able to select from a selection of lightweight tiles, all designed to blend in with your existing house roof.
We offer a range of lightweight tiles that beautifully replicate traditional stone, terracotta and slate. With a wide range of colours, your chosen tiles will match and compliment your home. In addition, your choice of fascia and guttering will provide the finishing touches. Icotherm's tiles options are UV protected as standard and have the additional benefit of being fire-rated for your peace of mind.